Dutch Heritage Amsterdam
Series of focus exhibitions with Dutch favorites
The well-known museum alongside the Amstel river presents a new four-part series of focus exhibitions in which one masterpiece from a leading Dutch collection is highlighted. Welcome to the fourth edition of Dutch Heritage Amsterdam. The famous painting The Tower of Babel (c. 1568) by Pieter Bruegel I (c.1525 – 1569) from the Depot Boijmans Van Beuningen in Rotterdam will be on display exclusively at the Hermitage for five weeks, until Sunday 28 August. The exhibition refers to the Biblical story and the life of the artist. Visitors pass rock-shaped benches and
'crushed limestone smudges', to enter the world of the old tower. The exhibition also explores how Pieter Bruegel I was inspired by the Colosseum in Rome. He situates the centuries-old story of the tower in his own time and environment, the Netherlands in the sixteenth century. Bruegel's oeuvre is discussed, we zoom in on his oil painting technique and in the mini cinema, a film is shown about the history of the work. In the final room of the exhibition, everyone can add their own log (handed out at the ticket desk) to a 'Tower of Babel under construction'.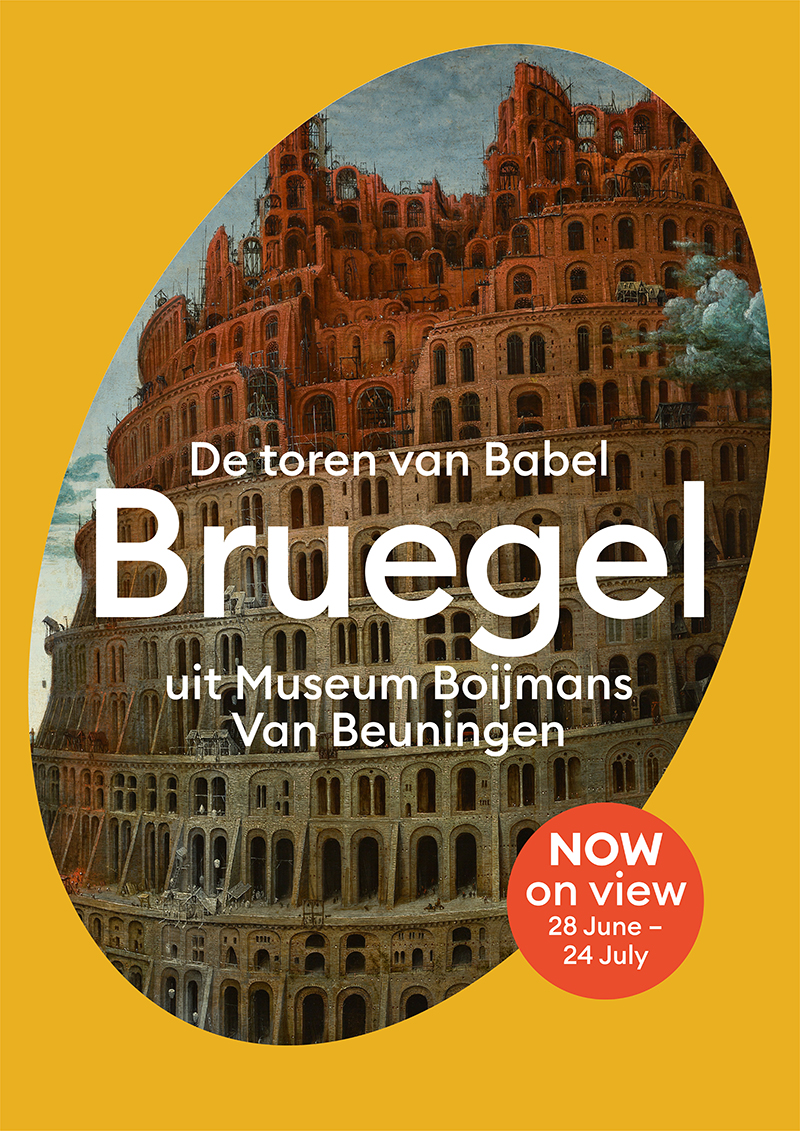 More about the masterpiece
The well thought-out use of colour on the tower is remarkable. Up above, the bricks are still bright red; on the lower levels, they are already weathered and lighter in colour. These small subtle details by the artist can also be seen in the very detailed representation of human activity in and around the enormous tower. The painting depicts more than thousand people.

The Bible story of the tower takes place after the flood of which Noah and his family were the only survivors. God had said that Noah's descendants should disperse across the earth, but they did the opposite: in unison, they built a tower that could save them from the next possible flood. According to the story, God punishes the builders by causing everyone to speak different languages. They no longer understand each other and live together in 'Babylonian confusion'.
Come build with us
Especially for children – and for all visitors who love to build – we are also working on our own Tower of Babel. In the last room of the exhibition, everyone can add a wooden block (distributed at the cash register) to the tower under construction. The (young) museum visitors are also asked to write a message on the block.
Admission prices
| | |
| --- | --- |
| Adults (12 years and older) | € 15,00 |
| Museumcard | € 0,00 |
| Children (untill 11) | € 0,00 |
| Vriendenloterij VIP-KAART | € 0,00 |
| I Amsterdam City Card | € 0,00 |
| Stadspas | € 7,50 |
| CJP | € 7,50 |
| Friend HA | € 0,00 |
| ICOM | € 0,00 |
| Vereniging Rembrandt | € 0,00 |
| MeesPierson | € 0,00 |
Opening hours
Daily from 10:00 - 17:00 uur
Entrance: Amstel 51, Amsterdam